The rise of technology and the onset of the internet have brought about a sea change in real estate in Pakistan. One of the most time-tested and traditional businesses, real estate is also not left behind. The internet has brought about many platforms that provide reliability and convenience to individuals dealing with the sale and purchase of property, knowing more about the property details. In this article, we'll be looking at the top best Real Estate Property Portals, that have been helping individuals in their quest of purchasing properties, Such as Graana, Agency 21 International, Zameen, Ilaan. These web portals have made the marketing and selling of properties easy since the platforms offer a lot of information and ease to buyers, sellers of properties, and property dealers. It is why you should consider using these digital platforms to make more profit from real estate.
Table of Contents
1- Graana Property Portal:
Graana.com has been around since 2015, and it's one of the top real estate companies in Pakistan. Their logo embodies an innovative design that sets them apart from competitors, promoting their brand globally while allowing people to identify with their services easily. With so much experience under their belt, Graana (Pakistan) can now further helps promote this sector by providing services directly related to real estates, such as managing property or even building them from scratch for clients! With its core service being comprised of providing customers and investors access to real estate properties on its site, Graana plans to cater to both general consumers and commercial users, such as builders, agents, or property developers looking for new projects but also to aid in long term investments and retirement planning options, like inheritance-related transactions.
Founded in 2018
Graana App: https://play.google.com/store/apps/details?id=com.graanaapp
This platform had successfully brought the topic of real estate to the masses and made thousands of people who wouldn't have otherwise ever given it a second thought more aware of it than they were before Graana was created. Starting as something that its founder considered an open-source effort at bringing transparency to the real estate industry in Pakistan, Graana quickly became so popular that today it is used by many Pakistani citizens to find homes and land they love while simultaneously bringing much-needed convenience to them as well!
2- Agency 21 International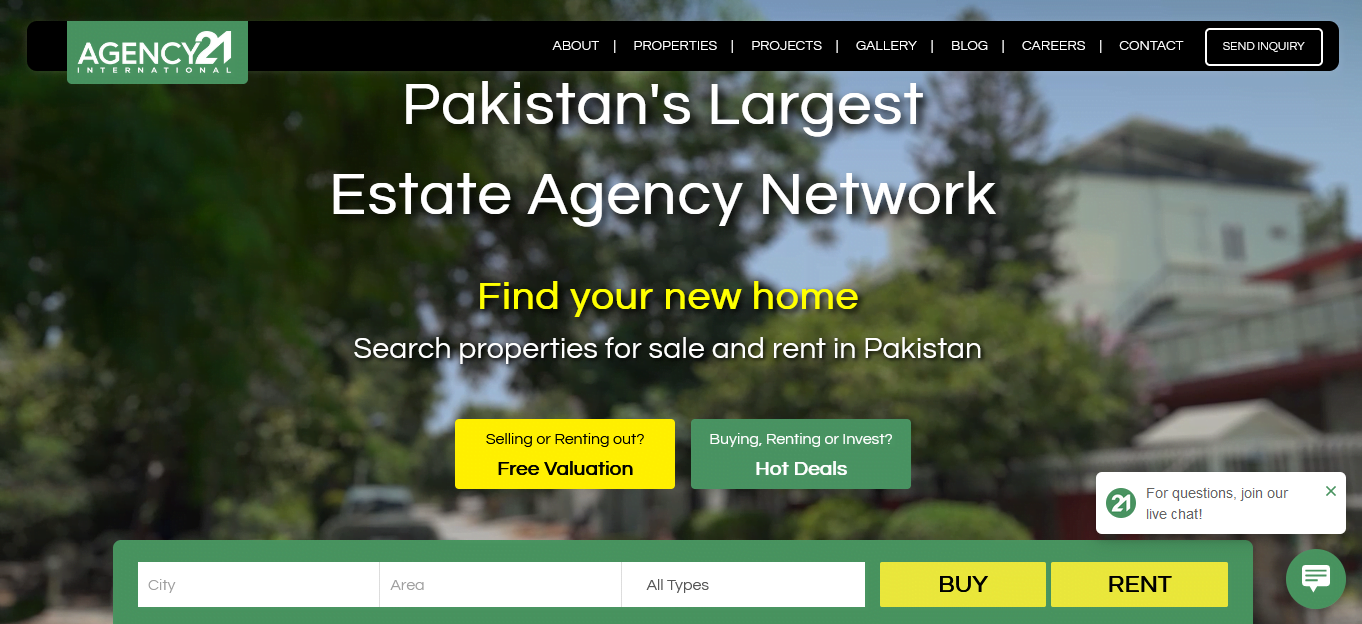 Agency21 International, the largest estate network in Pakistan, secured the "Award for Excellence" at the 6th ICCI Achievement Awards ceremony.
The Imarat Group of Companies– the parent company of Agency21 International– received an award from the Islamabad Chamber of Commerce and Industries (ICCI) for the 3rd time– this time for being the "Fastest Growing Company"
By creating 100+ offices across Pakistan and simultaneously creating more than 1000 jobs, Agency21 International aims to work towards the economic prosperity of the country by establishing numerous job opportunities and creating investment options for people in Pakistan and abroad.
Imarat Organisation has built its countrywide presence by opening offices in Pakistan's major cities with a steadfast team committed to integrating emerging technology to improve their entire service delivery and give clients all they could possibly desire.
Founded in 2018
3- Zameen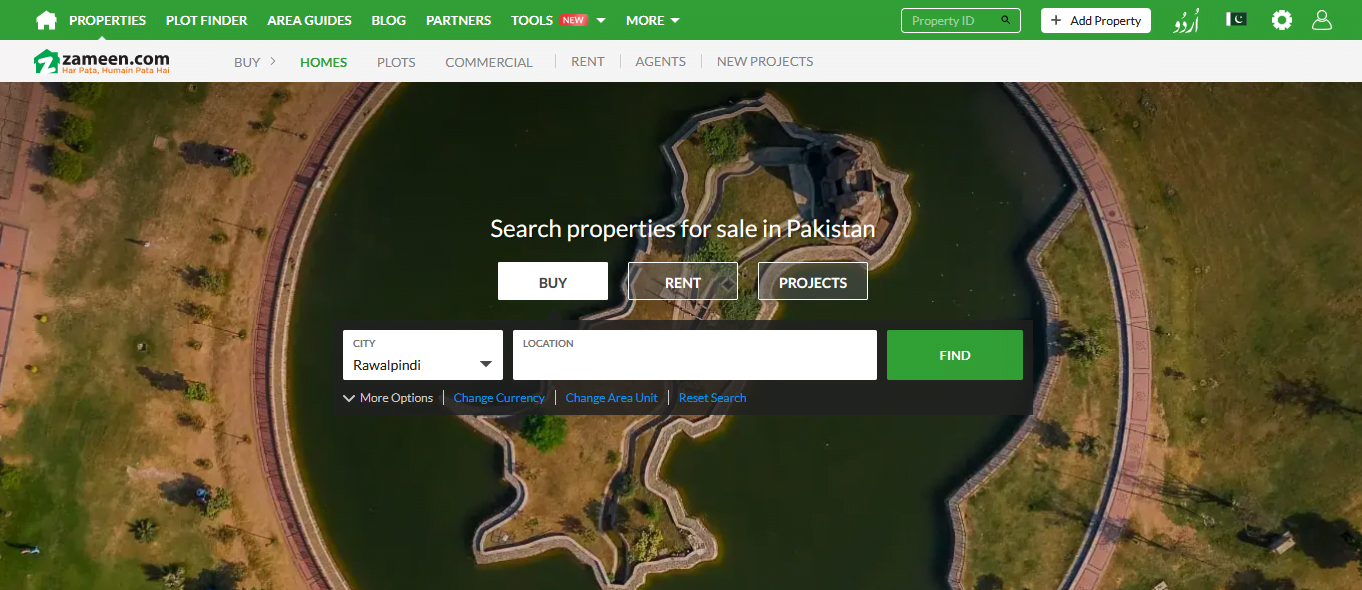 Zameen is one of the highly-rated real estate websites in Pakistan, as one of only two Pakistani companies to have won an award from the Council of Master Builders' Council and has been ranked among the top 30 real estate websites on About.com's list for 2011. The company is part of the most inspiring third-party property websites in Pakistan because it offers the following services: making home buying easy and affordable by buying houses even when you don't live in Pakistan. Zameen has more than 300,000 registered members and 6,000 registered real estate agencies.
This platform has built its reputation on offering a clean and obvious experience to people looking for properties like homes, apartments, commercial space, or plots – whether they're in Karachi, Islamabad, or Lahore. This website provides information on upcoming developments for property buyers interested in finding land plots and ready-built properties in Karachi, Lahore, or Islamabad, in naming a few cities. It is especially popular among tens of thousands of overseas Pakistani property seekers. The website provides a wide array of high-quality listings by experienced agents and developers, making it easy for everyone to find Pakistan property for sale or rent easily and does not require any intermediary.
Zameen is a pioneering company in advanced real estate services and has enhanced the scope of property-related dealings within Pakistan. Zameen was not as renowned as it was now five years ago. Still, it became one of the leading real estate companies in Pakistan during this short period, which boasts more than 4.7 million monthly visitors, with Urdu being available for all customers. Zameen.com has 2+ million organic visitors per month and over 20% of this traffic of overseas clients
So, all in all, we can say that Zameen is a leading real estate entity in Pakistan. It offers one of the best growth models for entrepreneurs. Zameen's widespread use has increased by 4.7 million monthly visitors since it launched five years ago. This online platform serves individuals, developers, and businesses with property needs in Pakistan's growing market for real estate agents and brokerages.
Founded in 2006
Zameen App: https://play.google.com/store/apps/details?id=com.zameen.zameenapp
4- Ilaan: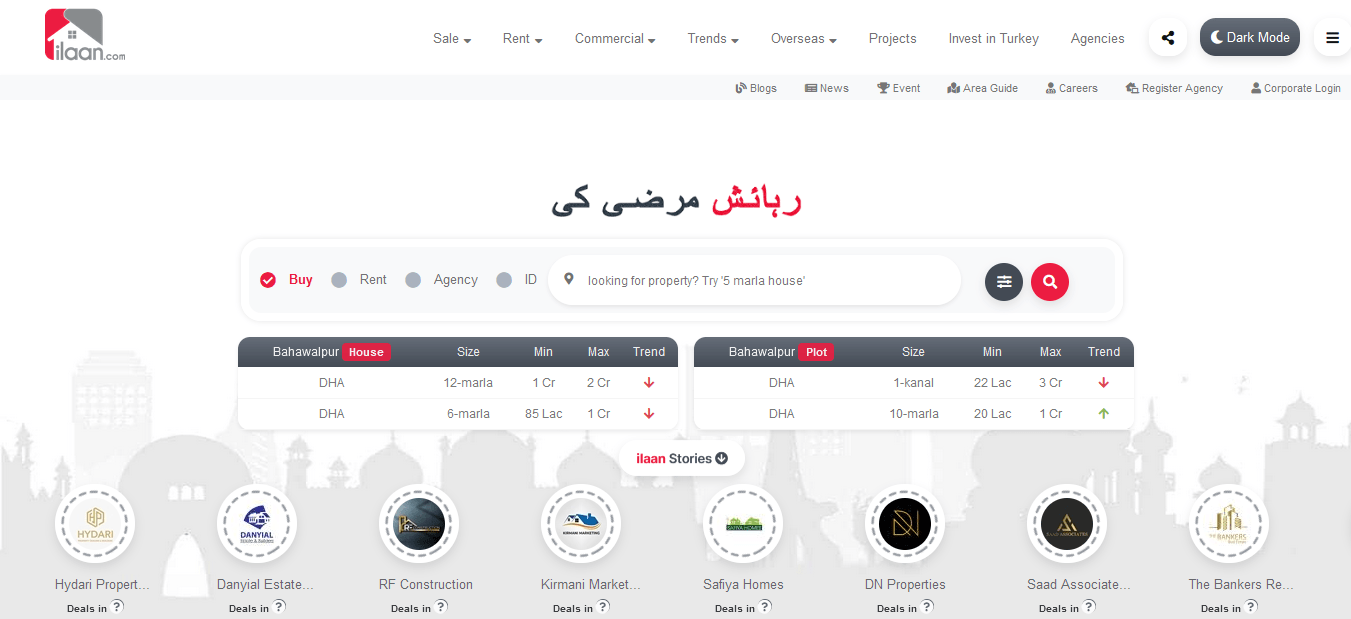 Ilaan is a property website that offers genuine listings and contains categories for both "For Sale" items and "For Rent" items on its homepage. This real estate site has lots of varieties with city and price filters which will help you search for the property you need. Ilaan.com has developed its website to spotlight real estate for interested buyers and sellers.
The site allows investors, agents, sellers, and buyers to contact each other online. Its Mobile Application merges real estate information with an easy-to-use interface that will enable people to search according to their needs and preferences. By working with Ilaan.com, people have several advantages: they can buy or sell properties well located in Pakistan while having all of their payments processed by Ilana's secure payment processing solution!
Ilaan is a standalone start-up real estate website that offers genuine property listings. These are 100% verified and verified ownership. In terms of website layout, the buildings have Categories for properties for sale and properties to rent, and they have filters you can employ to find what exactly suits your budget and needs or even your tastes! Now, why don't you check Ilaan out yourself?
Founded Date Aug 14, 2017
Ilaan Property Application: https://play.google.com/store/apps/details?id=com.ilaan.property.portal
5- Ammanat :
It is a relatively new real estate portal and investment company that offers many services such as buying, selling, or investing in real estate projects. Although its main office is situated in the northern province of Punjab, Amanat can connect buyers with sellers from all over Pakistan regardless of the size or scale of their project.
It came into the market with a slogan, i.e., Mashwara Amanat Hai, that has gained popularity among people in the past few months. It aims to offer detailed, unbiased information concerning any given society regardless of experience and background.
The website of this real estate company is well-made when it comes to usability. There are many unique things one can do with this site, and it doesn't cause any problems at all, which is excellent. New features are being added too, including a dealers' directory and maps – this is something that people could use quite frequently, so we're glad to hear it'll be included in the next update!
Talking about the website layout, it is incredibly easy to use and functional. It includes projects (for specific cities), dealers' directory, maps, blogs, and news. In addition, as per brand new updates, it is also bringing in some exceptional features that have never been introduced into real estate websites before. One of the most exciting features that have been released recently is 360-degree mapping views for each broker, which give an exceptional idea about their current operations.
6- Pak-lands:
Paklands.pk is a free real estate portal in Pakistan and has been serving its customers with reliable, professional services for some time now. Whether you're looking to buy a house, a plot, or an apartment manufactured by a reputable builder or plotting a consortium of builders like Marriot or Bahria Town, Pak lands lists the buildings across dozens of cities and villages in Pakistan. This renowned property portal provides real-time updated information about thousands of properties. It ensures that you save time and money while buying your dream abode after maximum effort and research.
Pak lands bring you the best deals on property. From rent, sales, and everything in between, you are sure to find the perfect match for your needs in Pakistan. Browse local properties by category or location while filtering your search as required. The team at Pak lands is dedicated to meeting your needs and ensuring that you have an easy and enjoyable property-hunting experience.
It provides you unrestricted control over your search and complete access to every property in major cities of Pakistan, such as Bahawalpur, Hyderabad (Pakistan), Karachi, Lahore, and many others. Moreover, it allows you to rent, buy or sell properties in Pakistan with ease and comfort. Pak Lands is predicted to become the largest property portal is 2024 in Pakistan.
7- Meraghar:
Mera Ghar is the premier property portal of Pakistan. In the MeraGhar directory, you can find information about different types of homes, apartment complexes, and lodgings for rent in Karachi, Lahore, Islamabad, and many other major cities around the country.
Mera Ghar is a property portal website that makes purchasing and selling more comfortable and simple. It provides a directory of homes, plots, and apartments for sale. It helps buyers and renters streamline their search for properties categorized as homes, plots, and apartments.
Mera Ghar is an online portal that provides users with real estate services. It creates an interactive platform that allows its clients to find advertisements of homes and apartments coming up for sale or rent across Pakistan on one platform. So whether you are looking to purchase a house in your locality or you are on the lookout for real estate properties in other cities, MeraGhar has it all covered!
8- Jagah Online

Jagah Online is a unique Property Portal designed to help users to easily sale and purchase properties. Jagah Online pledge to make real estate experiences more accessible to everyone – whether they need to buy, sell, or rent properties, products, projects, or services.
Jagah Online App: https://play.google.com/store/apps/details?id=com.ha.jagahonlinewebview

9- Lamudi
Lamudi a property portal that aims to take Pakistani real estate to another level of excellence. The internet has revolutionized almost every sector, and real estate should be no different. So, Lamudi directly connects buyers with sellers and tenants with landlords to make the whole property process as simple as possible. Whatever your property buying or selling requirements are, we give you a large number of options to cater to them.
10- Apka Ghar

11- Sabz Property
Sabz Property is a digital property website in Pakistan with the fastest-growing property marketplace. Sabz Property list Residential Commercial properties for Rent, Sale, and Real Estate Projects for digital advertisement. Discover the best-to-find Houses, Apartments, Plots Businesses for Sell and Rent with Sabz Property Pakistan's fastest-growing Property Portal. These property searching sites are becoming popular due to the great success of Zameen portal revenue model which it generates from its website organic traffic.

12- Reall

Reall property searching website with exclusive features, like Affiliate programs, Smart Franchise, etc. You can post ads to sell or rent out your property on our profusely featured portal. This property company offers a wide range of services.
13- Sirmaya

Find Property to Buy, Sell and Rent in Pakistan through Sirmaya. The most comprehensive Real Estate Portal in Pakistan.
Sirmaya Application: https://play.google.com/store/apps/details?id=com.sirmaya.external
14- Feeta PK Property Website
Feeta real estate property portal is continuously working to improve the accessibility of its web experience for everyone, and welcoming feedback and accommodation requests to improve it digital web platform for real estate. Just send them the issue or problem you find while using the platform.
15- Earth Pk Property Company
Earth pk is another great website that is allowing its users to add a listing of the user to buy and sell their properties. You can list your properties online to sell them fast. Most of digital real estate websites allow users to upload their listing for free, which can be very helpful to their users.
16- Jageer Property Platform
Jageer real estate portal is another great platform for users to add their listings. These emerging platforms can be a great help and can add great value to Pakistan's real estate market.
17 Makkan
Another emerging real estate portal is Makkan, which adds great value to the market of real estate and helps its users to buy and sell their property with ease.
18 Homes Pakistan
Homes Pakistan is a comprehensive online property portal in Pakistan is focused to empower website visitors with handy tools and information, they need to make better property decisions in this region
19 Advice Pk
Advice is the Real Estate Website of Bahria Town & Gulberg Islamabad Islamabad which provides online guidance and assistance to sellers and buyers in marketing and purchasing the property of Bahria town for the right price under the best terms
20 AARZ PK
21 Real Property
22 Zamulk Property Website
23 Wall Pk
24 Ghar 47
25 Right Deed Web Portal
26 Jaidaad Real Estate Website
Jaidaad Application: https://play.google.com/store/apps/details?id=com.property.jaaidad
27 Asasa
Asasa Application: https://play.google.com/store/apps/details?id=com.asasa.app&hl=en&gl=US
28 Gharoga Property Website
Gharoga gives its customers absolute dashboards with marketing tools for investment but credit management to make their property more value able insight to sell their property intsnatly.
29 Right Door Pk
Rightdoor is the gateway for the right solutions to your real estate problems. Right door provide the exact solutions tailored to make fair and transparent deals. Envision to transform the real estate sector, Right door are up for a revolutionary drive to bring transparency and utmost professionalism to the industry.
Conclusion:
There are many property web portals in Pakistan, but these are the largest property portals in Pakistan. The sites offer various options for home buyers, sellers, and renters. Their prices are competitive, and their services are efficient. You'll be able to find your ideal property with the help of these property portals. Many of the properties' web portals are moving their free structure to the paid one. which only add difficulties for their user, According to my opinion property portals should be free for the users. There should be paid business solutions for realtors and real estate agencies.
 Which property portal is best in Pakistan?